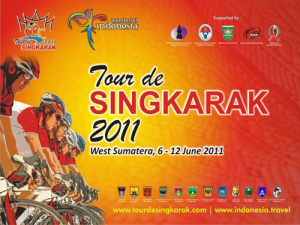 Tour de Singkarak 2011 will be held starting next June. This year's Tour de Singkarak entering in her third year. This championship has officially become an annual event organizer Union Cycliste Internationale (UCI). For this year, UCI set a Tour de Singkarak held on 6 to June 12, 2011.
The competition was attended by 225 riders from 10 teams in the country and 15 overseas teams and taking seven stages across a variety of natural beauty and culture in 12 districts / cities in West Sumatra with a total distance of 813 kilometers.
The number of stage or stages of this year increased compared to the previous year that is six. Last year Tour de Singkarak cover a total distance of 551.7 kilometers.
Details of the stage 2011 is as follows:
June 6 Stage I Padang (Sircuit Race 5 laps),
June 7 Stage II Padang – Padang – Sicincin – Pariaman,
June 8 Stage III Pariaman – Pariaman – Muko Muko – kelok 44 – Matur Agam – Bukittinggi,
June 9 Stage IV Bukittinggi – Payakumbuh – Harau valley,
June 10 Stage V Payakumbuh – Padaladang – Tabek patah – Talawi – Sawahlunto,
June 11 Stage VIA Sawahlunto – Sumani – Paninggahan – Sumpur – Ombilin – Rambatan – Istano Basa Pagaruyung,
Stage VI B; Istano Basa Pagaruyuang – Batipuah – Padang Panjang
June 12 Stage VII A; Padang Panjang – Batipuah – Lake Singkarak – Alahan Panjang – Twin Lakes.
Stage VII B Twin Lakes – Batang Aro – Patung Ayam – Lake Singkarak
Download Route TDS 2011 here,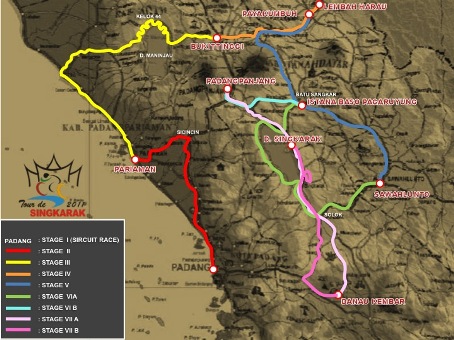 Source: tourism.padang.go.id