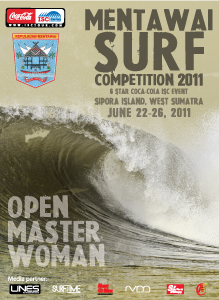 Mentawai selected and included in the agenda of the International Surfing Championship (ISC) ​​2011 "Mentawai Surfing Championship" which was held June 22 through June 26, 2011. Previously, the International Surfing Championship was held in West Java Cimaja "West Java Cimaja Open Championship" at 13 to 18 June 2011.
A most prestigious event for surfers national level. As an international tourist destination, surfing the Mentawai Islands has brought the name into the international arena. The beauty of the surf Mentawai, among surfers world has equated the archipelago located in the administration of West Sumatra Province with Hawaii.
Mentawai only one area in West Sumatra that became world surfing destination. National Surfing Competition that was held for 4 days from 22 June to 26 June it will be covered by several television stations, both national and international.
International Surfing Championship after supporting a number of activities surfing world, present in the Mentawai collaboration with the Department of Tourism Culture Youth and Sports. In addition to bring into the open class surfing competitions and master classes are also incite women.
For Mentawai Islands District event can be used as a promotional event, to introduce the uniqueness of Earth Sikerei from both cultural and natural. Surfing competition also witnessed an event that could draw for tourists. Besides enjoying the match, the tourists also can make the stretch of white sandy beach with clear sea water as a playground for families. Tourists can obtain the Mentawai souvenirs are sold at a number of souvenir outlets in Tuapejat.
To watch a national surfing competition, the tourists who pass through the city of Padang can use boat transport including: KMP ferry Ambu – Ambu which departs from Port Bungus Padang goal Tuapejat with ticket prices Rp.80.000 up to Rp.90.000 / person.
Tourists can choose to stay at resorts or lodging in Tuapejat jasmine. Lodging is located close to the site include:
– Aloita Resort (equivalent to five-star hotels) Rp.1.500.000 / night
– Oinan Village Mapadegat Rp.350.000 / night
– Bundo Goeshouse 250,000 to 300,000 / night
– Wisma Bintang Rp.100.000 to Rp.200.000 / night
– Wisma Getsemani Rp.80.000 to 150,000 / night
(Department of Tourism Culture Youth and Sports District Mentawai Islands)
Source: tourism.padang.go.id