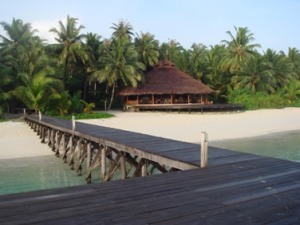 Aloita Resort & Spa is located on the island of Silabok , only 5 min from Tua Pejat, the Capital of the Mentawais. It is well connected with the Sumatran mainland by regular ferry services.
The most refined, classy and comfortable resort ever built in Indonesia 's Mentawai Islands Everything you have heard about one of the worlds most desired surfing locations is true. Now we can say the same for diving and fishing. Aloita Resort offers a smorgasbord of aquatic activities in crystal blue water right at your front door. The surf shuttle will zip you twice daily to breaks right in our backyard such as the famous Telescopes lefthander and also up and down the coast to other waves such as HT's, Rifles and Nokandui's.
Beach Side Bar
Aloita Resort caters for a range of guests including couples who may wish to simply opt for a slower pace of life during their stay; laze in the sun and snorkel right off Aloita's private beach. Or families who may wish to go sightseeing on neighbouring islands and witness the lifestyles and traditions of Mentawai natives.
Enjoy your next holiday with us and witness the pristine aquatic environment of the Mentawais along with the hospitable and friendly service of Aloita Resort and Spa. You'll be back again and again. More than 70% of the waves in the Mentawais are accessible within an hour by speedboat from Aloita Resort.
Right in our backyard only 10 minutes away are five well known consistent spots including Telescopes the world class lefthander which offers longer and straighter barrels than Maccaronies when it is firing. Mellower waves are also close by including a fun learners wave right at the end of Aloita Beach . There are still a few secret spots we keep to ourselves though you might just find yourself surfing them when conditions are right! Our Western surfguide will ensure you are always in the right place at the right time. Click on the charts below for an overview of the most popular surfing spots all reachable in less than an hour.
Fishing
Fishing as a sport in the Mentawais is still in its infancy though indications of its potential can seen in the types of fish caught by surf charter operators over the last few years. These fish include the common pelagics such as Spanish Mackerel, Tuna, Wahoo and Barracuda. More exotic species including Sailfish and Marlin have been caught recently trolling in the Sipora channel adjacent to Aloita Resort. Other fish commonly caught close by include Golden Trevally and Coral Trout. The zone around ' Setan Island ' which lies in front of the resort is possibly the most abundant fishing ground in the Mentawais. Aloita Resort has available some trolling rigs for guests use. Of course you are more than welcome to bring your own gear. Spearfishing is allowed only for free divers in limited areas . The Mentawais has been featured as a spearfishing destination on several Hawaiian dive magazine articles. We always aim to implement a 'catch what we eat' policy and we are more than happy to have our chef prepare your catch cooked in the style you like.
Rates from May 1, 2009 Onwards
| | | | |
| --- | --- | --- | --- |
| TWIN BUNGALOWS | SURFER | NON-SURFER | CHILD (5-12) |
| Single Occupancy | US$ 275 | US$ 220 | – |
| Double Occupancy | US$ 220 | US$ 165 | US$ 110 |
| Third Bed | US$ 165 | US$ 110 | US$ 55 |
| Family / Quad Bungalow | SURFER | NON-SURFER | CHILD (5-12) |
| Quad Occupancy | US$ 198 | US$ 143 | US$ 88 |
| Fifth Bed | US$ 165 | US$ 110 | US$ 55 |
More info about Aloita Surf and Spa Resort, please click here.
Page Source: www.reginaadventures.com