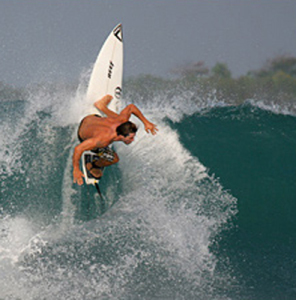 Indonesia and Hawaii are the 2 best locations in the world for surfing, with a combination of big waves, variation of conditions and miles of coastline. Bali itself has to be the single best island in the world for surfers to visit due its combination of warm weather, low prices, great surfing, easy of access, selection of food and drink, not to mention plenty of pretty girls for when the surf is not up. For surfers visiting Bali, who want to go on a adventure inside Indonesia, one of the absolute best surf locations is the Mentawai Islands, situated off of the west coast of Sumatra.
The reasons why the Mentawai Islands are a great surfing destination are:
They get good swell moving in from the Indian Ocean.
They are spread out enough to feature many breaks.
They are in a very remote part of the country.
• There is no industry on shore, so conditions are pristine.
Negatives about the Mentawai Islands as a surfing destination are:
They are in a part of the country prone to earthquakes and tsunamis.
They are hard to get to unless to arrange a live-aboard boat
There are few facilities onshore.
Malaria is rampant in the Mentawai's and Nias.
There is an increasing number of boat operators in the area.
• More expensive than surfing Kuta Beach.
Preparation:
Surfing in a remote location such as the Mentawai Islands means you will have to think ahead regarding what's needed to bring along. Extra boards, leg ropes, wax, plenty of sunblock, reef boots, a knife will all be used most likely. You might also want to pack your own lightweight first aid kit. These are available from camping stores, but you can easily assemble one here in Bali for a lower price. You might take a selection of BandAids in various sizes, scissors, a roll of gauze tape, gauze pads, Betadine, tweezers, ibuprofen, aspirin, insect repellent. Pack that all in a waterproof lunch box that you can get in Bintang supermarket and you're good to go. There are small neon-blue octopuses in the islands which local have advised are poisonous if stepped on. Reef boots might be a good idea.
One of the charities that involves surfers and the Mentawai's is SurfAid. The organization t is trying to help the Mentawai locals fight malaria.