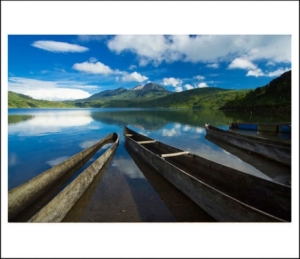 Talang is a small hidden lake located in Lembang Jaya district – Solok, West Sumatera, Indonesia. It's roughly two kilometers from the the twin lakes; Diatas and Dibawah, on a highland of 1.400 meters above the sea level. Cool wind breezes gently, green hills border the water, vegetable and fruit fields layer the land. Dream-like panorama lies there.
Hiking is a great sport to choose in the list. The route of the lake is very challenging to fight on. The path is still not constructed yet, it's a real land – virgin track. Nice enough for adventurous travelers. The small lake is about 1.9 Ha widths, that actually is one of the two Mount Talang Purba craters, can be reached by foot from Alahan Panjang or the twin lakes in one hour walking.
The lake looks very elegant for scenery. It gives on eyes, the hill chains of Talang Mountain with the best remote nature. Unfortunately, just few people visit; many people haven't known this place. Fishing is one of the most favorable activities of people who live in the area.
How to get there
From Padang city – the capital city of West Sumatra, the trip is about 65 kilometers long. The route to this place will have hard tracks to take on going up and small down, many bends way to pass. But there are great and beautiful sceneries on the long way to the destination, such as tea plantation that looks like a green carpet on the hills. Go straight with point on Diatas and Dibawah Lake. From that point, you need two kilometers more to reach Talang Lake
For more information about this lake please see click here
Location:
Solok
Sumatera Barat
Indonesia