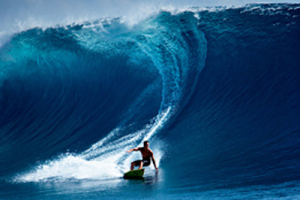 Mentawai Adventure is among the very first companies based in the Mentawai Archipelago, operating a land based Surf Resort.
Do we really need to tell you that the Mentawai Islands are one of the world's most consistent surf destinations? If you surf, you already know that! The Mentawai are directly exposed to the Indian Ocean "roaring forties" swell. From April to October, the dry season, surfers, from intermediate to advanced, will find in the Mentawai the best surf experience of their lives. Moreover, the potential for fishing, snorkelling and eco-tourism is quite remarkable. Mentawai Adventure organizes also a wide range of easy treks and activities in these off-the-beaten-track islands, allowing you some extras or your friend to enjoy a trek while you surf.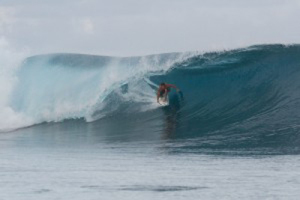 Organized in close cooperation with certain Mentawai tribes, Mentawai Adventure offers you the opportunity to live on Siloinak, a quiet deserted island situated right in one of the best surf spots in the world. Mentawai Adventure offers a surf experience that you will never forget, thanks to the quality of our surf guides. All born in the area, they learned to surf with the first pioneers who dared venture there, 15 years ago. They know all the best spots, according to swell, tide and winds. With them, you will surf far from the crowds (and 'crowds' is anyway something of an overstatement…) in a radius of 15 miles from our resort; an area that includes 21 of the most consistent waves in the world, plus the "secret" ones never visited by charter boats… Our packages include all services, starting every Monday from Padang airport or hotel, ending every Wednesday at the same place.
Packages include mainland and island transfers, surfing speedboat service, accommodation, food during your stay in our resort…and of course some of the best guides available to this day!
The waves
Some of the better known waves near the resort are: E- bay, Pitstop,
Burgerworld, Beng-Beng, Bankvaults, Nipussi, Hideways, Nokandui, 4-bobs, A Frames, Kandui,. You will surf far from the crowds (and 'crowds' is anyway something of an overstatement…) in a radius of 15 miles from our resort; an area that includes 21 of the most consistent waves in the world, plus the
"secret" ones seldom visited by charter boats…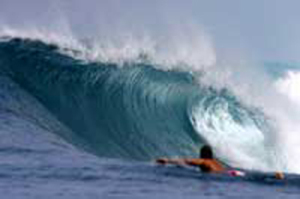 The resort
Our traditional bungalow resort is built on Siloinak, a small, palm-covered island situated 3 kilometers south of Siberut. Siloinak is the exclusive property of Mentawai Adventure. There are twelve bungalows, each sleeping two guests, and a restaurant. Everything combines to make your stay a heavenly experience: comfort, good food, coconut palm-fringed beaches, a shaded lagoon
of emerald water, magnificent aquatic wildlife and SURF, SURF!.The uma
A large uma, the traditional Mentawai long house, offers a spacious living area for eating and partying. Its 80 m2 dining room and lounge offers splendid views over the lagoon, and the ultimate luxury: beauty, space -lots of space- and comfort.
The Bungalows
The bungalows are spaced out in a large flower garden, so as to preserve guests' privacy, and look out to the sea, 50 feet away. They accommodate 2 guests each. Single occupancy is possible, at an extra cost. Pillows, sheets and mosquito nets are of course provided, along with bathroom towels.
The architecture of the facilities is in keeping with the same aesthetic
spirit that prevails on the entire island.
Food
Mentawai Adventure takes great care in the quality of food served, and pays special attention to aesthetics, from details like the dishes and cutlery to the harmony of the settings in the dining room. We share the soul of the Mentawai people; we too honour beauty and harmony with nature. A professional cook prepares the meals, based on fresh fruit, vegetables and meat shipped weekly from the mainland. Rice, together with good Italian pasta "al dente" are the main staple, with fresh fish direct from the sea, daily delivered and fried, baked, curried or barbequed on the beach. Three hot meals a day, with breakfasts consisting of omelettes, pancakes, French Toast, cereals, fruits, cheese, butter and jam. Lunch is very often taken onboard our speedboats or on a remote
beach: classic sandwiches and salads, fruits and desserts, along withtea and coffee, and surf snacks.. Dinner is quite a serious affair with an "entrée", main course, salads, cheese and dessert. Cold beer is available.
Safety
Due to its geographical situation Siloinak Island is totally protected from any possible tsunami coming from the Indian Ocean. The waves would break on the islands of Nyang-Nyang and Siberut and would not reach Siloinak, which is known as the safest harbour in the area. Fishermen's boats shelter there during storms. There are no objective dangers on Siloinak. No snakes and no mosquitoes or flies. In case a medical emergency should occur, our speedboats could reach Padang hospital in 6 hours, weather permitting.
Getting There
Take flight from Sukarno Hatta air port, Jakarta to Tabing air port, Padang-west Sumatra (flight served every day)
Trip from Teluk Bayur port, Padang to Mentawai island by Ferry
Accommodation
Based on the visitor experience, the local people's housing is the best choice to stay. Having interactions with local people and staying in unique architectures give the visitors distinctive way to blend with the culture. But, there are also common accommodations available.
Moving Around
To access all the beauties offered, you can use boat owned by local people. You can find the boat a long the beach and the rate depend on your bargaining power.
Boost your taste with exotic and fresh sea foods that you can found in the local restaurants run by local people. If you are lucky enough, you can pick and cook your own sea food, but make sure you know the secret recipe/spices from Mentawais people. For those who are not sea food lover, you can find regular meals for your dining.
Other Things to See or Do
Beach Activities
Sight seeing
Diving
Snorkeling
Cultural Activities
Learn how to perform the Traditional dances (war dance and gratitude to nature)
Traditional ceremonies
Mentawai is one of the best place to conduct an Ethnographic study since its one of the oldest tribe in Indonesia
Ecotourism Activities
As the habitat for rare primate, the natural rain forest of Mentawai will be the perfect place for research or other educational purpose. Here, you can conduct research about
Snub-nosed monkey/Simakobu (Simias concolor) monkey family eat leaf as primary food
Joja or Lutung Mentawai (Presbytis potenziani) easily identified for the long tail, white face and black hair head
Bokkoi atau Beruk Mentawai (Macaca pagensis)
Kloss Gibbon/Bilou or Siamang Kerdil (Hylobates klossii) famous for the beautiful voice, different compared to general monkey
More info about Mentawai Island, please click here.