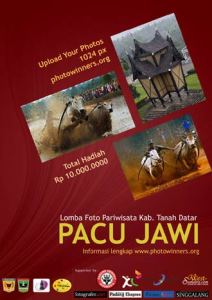 Pacu Jawi is a game typical village in Tanah Datar. Pacu Jawi in Tanah Datar held specifically for the fields and rider come running with jawinya.
In order to preserve and promote Alek Nagari Nagari " Pacu Jawi " Culture and Tourism Department of Tanah Datar District Photo Contest held Pacu Jawi Year 2009.
With the invented this race is expected to be Pacu Jawi activities better known, both at national and international levels, and ultimately will increase the number of tourists visiting the Tanah Datar LUHAK Nan Tuo.
General Provisions
Open to the public (Committee, Ladies and family not allowed to follow the race).

Theme photo: Race & Procession Pacu Jawi.

One of the participants can submit a maximum of 8 images.

No fee charged

Photos are private property, which had never won any prizes in other competitions

Photos taken at the time of the race Pacu Jawi 30 September, 10 October and 17 October 2009

Digital Engineering is not allowed, there must EXIF data.
Shipping Print Results:
Image size 10 R and submit softcopy on CD, JPEG format with a minimum image size 5 megafipiksel. For images created with film must include the original cliches.

Behind the photograph must be posted that contain data data title image, photographer's name and address, Phone number / HP.

All photographs included in the sealed envelope left corner of the envelope and written Pacu Jawi Photo contest 2009

Images can be taken directly to the working day or sent to the SECRETARY Competition Committee, at the latest by October 23, 2009

Address Secretariat:
Office of Culture & Tourism Tanah Datar
Complex Fort Van der Capellen
Batusangkar, West Sumatra
Posting Online to

www.photowinners.org

(Pwo) to the process of Judging:
Sign up for free

www.photowinners.org

.

The size of the longest side of max.1024 pixels high resolution.
Assessment
Photo of the entry will be judged by a jury on June 6 and 7 November 2009.

Photo assessed by the jury is a photograph signed / sent by site

www.photowinners.org

.

Committee entitled to disqualify the participants before and after the judging when considered cheating

The decision of the jury legitimate and inviolable

Jury
o Makarios Soekojo (Director PhotoWinners.org)
o Arbain Rambey (Senior Photographer Compass)
o Alfian Jamrah (Head dispar Tanah Datar)
Gift
Gift I: Rp. Regent 3jt + Trophy + Certificate
Second Prize: Rp. Regent 2jt + Trophy + Certificate
Third Prize: Rp. Regent 1jt + Trophy + Certificate
Gift Expectations: 5 of each Rp. 750rb + Certificate
Winners
Winners will be announced on the site www.tanahdatar.go.id, www.photowinners.org, www.west-sumatra.com and Daily Padang Express.
Photo contest winners are nominated and will be exhibited on the 12th, 13th, 14th November 2009 and names and award winners will be conducted on November 14, 2009 at the closing exhibition of Batusangkar.
All photos belong to winners of the committee and the committee has the right to use as a tourism publicity materials, without having to ask permission first.
For the photos that did not win, but a time will be used for publication, the Committee will contact the owner of the photograph.
Committee Secretariat
Department of Culture and Tourism Tanah Datar
Complex Fort Van der Capellen, Batusangkar. Tel. (0752) 574821
E-mail: info.budayawisata_td@yahoo.com
Web: www.tanahdatar.go.id