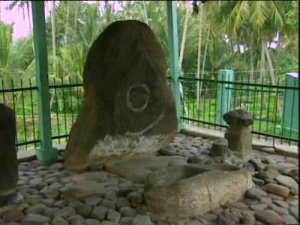 Batu Basurek citadel located at Kubur Rajo village, Lima Kaum Sub distric is 4 km from the Batusangkar.Batu basurek is located at the top of the graves of the king Adityawarman.inscription Batu Basurek any posts were written with it in ancient sanskerta.Batu Basurek is 25 cm wide 80 cm high with a thickness 10 cm and weight of 50 kg.
Batu Basurek has aged 659 year. This discovery inscription is written in the first
16 December 1880 by P.H. Van Hengst, Assistant Resident Tanah Datar. Prof. H Kern, an expert from the Netherlands, who he first discussed with the inscription any posts Java Ancient Sanskrit language it. In the 1917 he is to translate the contents: "Adityawarman strong forward, he Kanakamedinindra authorities or Suwarnadwipa (Sumatra or Golden Land). Adwayawarman father. He Indra family."
Adityawarman born from the womb Dara Jingga, daughter of the king Darmasraya located at the Batanghari river, Jambi. His father, Adwayawarman earlier, relatives Singosari palace.
Have, in 1292 China's Kublai Khan Singosari attack. And his brother Dara Jingga, Dara Petak, bring the army to help Singosari. Unfortunately, Singosari fall, and eventually mastered Jayakatwang. Then Raden Wijaya Jayakatwang move and rename it into the kingdom of Majapahit. Raden Wijaya married Dara Petak. Dara Jingga make the Adwayawarman. Once married, Dara Jingga invites her husband back to Darmasraya – and Adityawarman was born.
After Majapahit for various services, so the king finally Adityawarman in Darmasraya. He moved the kingdom's Siguntur (Sawahlunto Sijunjung) to Pagaruyung.
Until now the Pagaruyung still have differences of opinion whether Adityawarman Minangkabau king or king Pagaruyung only. Because, at that time that the king in The Limo Kaum, Pariangan, Tanah Datar and the other, is Datuk Parpatih Nan Sabatang and Datuk Katamanggungan. "Adityawarman a sumando not more, (the husband of the Minangkabau).