This is about Air Manis beach located on Padangbaycity and Malin Kundang "curse stone". Malin Kundang is a famous Minangkabau and Malay folklore and the legendary story is said to be originated here in Padang where the remains of "Batu Malin Kundang" is located.
This folkfore is about a man named Malin Kundang who hails from a poor family. Just like any other Minang men, Malin Kundang decided to travel elsewhere to seek good fortune, leaving behind his old mother. His life changed when he married the daughter of a rich man in Siam. Soon after achieving success and gaining great fortune he sailed back homeward on his own ship to Padang together with his wife and crews.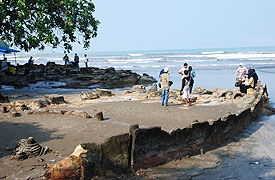 Upon hearing of Malin Kundang's return, his mother rushed to the beach to meet her long lost son. Unfortunately, Malin Kundang felt ashamed upon looking at his old and poor mother – he was a rich man with fine clothing and a beautiful wife while his mother was looking ragged and poor as she was. In his undisguised disgust he ignored his mother, refused to greet her and returned to his ship.
Humiliated and heartbroken by her arrogant son's behavior, his mother fell to her knees in desperation and prayed to God asking that her son be punished for what he did. Soon a terrible storm rose up and Malin Kundang's ship was wrecked upon the rocks. Realising his mistake and sin for ignoring his mother, the badly injured Malin Kundang tried to get ashore to seek forgiveness from his mother but as he crawled on his hands and knees he was suddenly turned into stone.
Until today, a stone that from a certain angle resembles the figure of a man on his hands and knees with his head seemingly buried in the rock can still be found here in Pantai Air Manis. It is said that Malin Kundang has been forced to stay on the beach forever, begging for forgiveness from his mother. Around this rocky figure barrels and ropes have been carved into the stone to represent the shipwreck washed up on the shore.
The tale of an ungratefull son makes the tranquil Pantai Air Manis a legendary location to visit that may offer some lesson in life.